Here you will find my Tytera MD-380 downloads. Since I do not own a Tytera MD380 anymore, this page is not maintaned anymore and here for historical purposes only.
Note: you need to alter the Subscriber ID and callsign, they are set to invalid values.
My codeplug has
all dutch DMR repeaters, each in its own zone. All Hytera repeaters are now connected to the Brandmeister network, so they all use the satandard 12 Brandmeister TalkGroups.
all Belgian DMR repeaters

, each in its own zone. All Hytera repeaters are now connected to the Brandmeister network, so they all use the standard 9 Brandmeister TalkGroups.

all dutch 70cm analog repeaters
a Simplex zone with 8 DMR channels (TS 1/TG99, receiving TG1/44/99), 7 analog channels
3 PMR446 zones, with 2 identical to Kenwood and Icom PMR446 sets. Make sure using these zones for TX is legal in your country.
there are also two zones (1 DMR, one analog) intended for Front Panel Programming on the go (see the FPP manual above on how to enable FPP).
as a bonus there are some receive only zones which have some commercial DMR repearters in a certain city/region.
a few zones left to add yourself. ;)
All Dutch Brandmeister repeater zones have the same configuration:
01: 1/91 - WordWide
02: 1/92 - Europe
03: 1/922 - Dutch speaking
04: 1/204 - the Netherlands Global (mapped to Reflector 4500)
05: 2/9 - Local traffic and Reflectors
06: 2/9990 - ECHO/Parrot (not a talkgroup, but a contact, as this is how Brandmeister uses the ECHO/Parrot aplication)
07: 2/2041 - NL Noord (mapped to Reflector 4501)
08: 2/2042 - NL Midden (mapped to Reflector 4502)
09: 2/2043 - NL Zuid (mapped to Reflector 4503)
10: 2/2044 - NL Oost (mapped to Reflector 4504)
11: 1/2049881 - DStar XRF088A
12: 1/2049882 - DStar XRF088B
13: RX ALL - a receive only channel with pseudo trunking enabled, receiving all available TG's, great for monitoring activity
14: 2/206 - Belgium Global (mapped to Reflector 4750)
15: PI2NON analog repeater system (when in coverage area)
16: PI2NOS analog repeater system
The Dutch Motorola repeater zones follow this configuration as close as possible, but from dial position 7 on it may differ (a lot!).
Motorola DMR HAM repeaters have a * at the end of the callsign, so you know which repeaters are on which network, and are last in the zonelist.
The coverage of my codeplug looks like this (and is identical to my PD785G codeplug):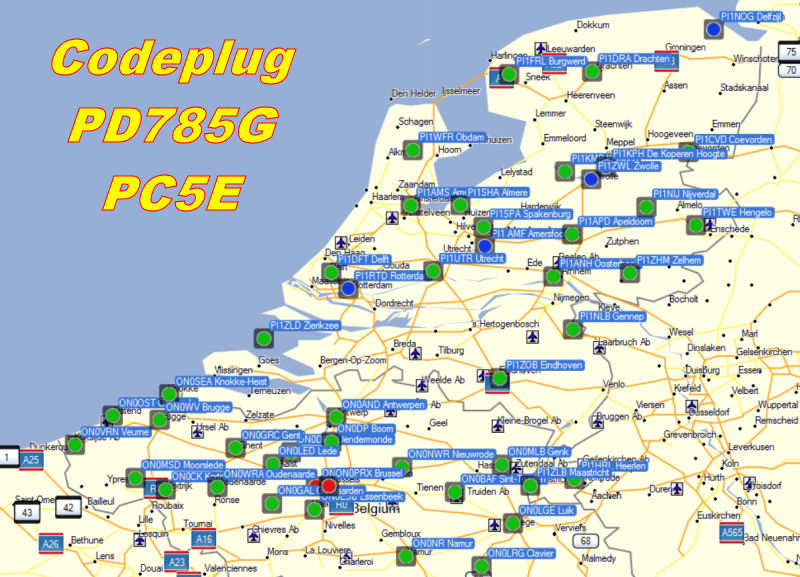 Green are Brandmeister networked repeaters, blue are Motorola/DMR-MARC networked repeaters. The red repeaters are in the process of moving to the Brandmeister network. TG 1/206 will work but the rest may not be available (yet).
Please mail me all errors you find, thanks!